Birthday Tribute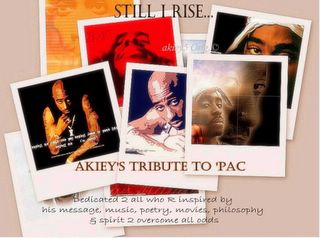 O
n
this day, June 16, 1971, a little baby boy was born to a Panther activist young girl named
Afeni Shakur
.
19

years
later, the little boy, who growing up was close friends and school mates with the likes of
Jada Pinkett-Smith
, laid the foundation that cemented his iconic status as a thought-provoking multi-talented poet, lyricist, actor, activist, screenwriter, rapper, entertainer, revolutionary and an Oscar-nominated autobiographer.
F
rom coast-to-coast, across all nations and transcending cultures, his image, message and voice is undoubtedly one of the most recognizable in the world. No other rapper dead or alive has received as much coverage and been studied at more universities. Few musicians dead or alive have been sampled as often or positively influenced so many budding and established musicians.
H
is fans span highly diverse socio-political, racial and economic strata and it should come as no surprise that the likes of the great
Nikki Giovanni
-the poet & activist, and Naughty By Nature's Treach have tattoos honoring him, highly reputed professors like
Michael Eric Dyson
keep writing
books and teaching about him
, highly regarded and inspiring musical legends like
Quincy Jones
publish
books & magazines
about him, as well as these two long-time fans, carry on his legacy:
T
oday, as we light candles and '
Pour Out a Little Liquor
' in observance of your day, I'm sure your wide & diverse circle of friends ranging from the UK's
Tim Roth
&
Thandie Newton
, to your roaddogs
Snoop Dogg
& Dr.Dre,
Jada Pinkett
,
Suge Knight
, Treach, Scarface, The Immortal
Outlawz
,
Method Man & Redman
,
Madonna
,
Mickey Rourke
,
Tony Danza
,
Jasmine Guy
, to…the list is infinite…we say:
T
hanks Tupac Amaru Shakur for touching our hearts, urging us to look within ourselves and our societies to make a change. As we do that we heed your words:
"Just think of all the people that you knew in the past
that passed on, they in heaven, found peace at last
Picture a place that they exist, together
There has to be a place better than this, in heaven
So right before I sleep, dear God, what I'm askin
Remember this face, save me a place, in thug's mansion
"
**Your true fans don't say R.I.P, we say:
T.I.P 2Pac**